It all started in 1975 when Katja entered our lives. I was five and my sister Asa was not born yet..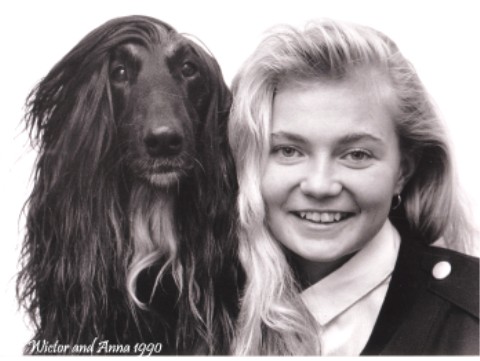 She was of Norwegian - German decent and was bred by Ann - Marie Danielson and Peter Sthulhofer in Goteborg Sweden. Her real name was Bohara ( Famask von der Irminsul - Svanekilens Miranda) and she hated dog shows. She did win one CC and was dragged to shows throughout her life. She was a learning experience.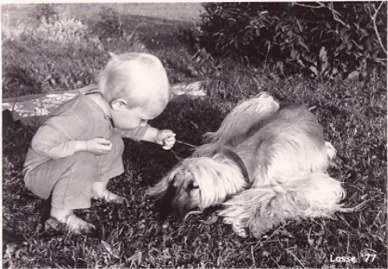 Asa and Katja in the backyard in 1977

Maja came next and this is when my parents and Christina Jernberg started their collaboration!
Maja was Nordic Ch. El Khyrias Majakha ( El K. Caran Dache - Ch. El kHyrias Drumfire)
She was a stunning red brindle with a heart of gold. She was bred once and produced with Int. CH El Khyrias Possible winner among others, Ch. El Khyrias Yasmanthi ( foundation at Punapaulan in Finland) and El K. Yours Sincerely ( father of Int. Ch Orientals Guess Who).

Maja died too young and was "replaced" with El Khyrias Do Try Again - Trappi. She was from a litter of ten black and tans out of Int. Ch Possible winner and the creme El Khyrias Quitance. Her litter mates made their stamp at a lot of kennels around Scandinavia. Trappi came into our lives at age ten months and was happy crazy. Herself a champion and BOS at the national at Skokloster under Gini Withington she produced, bred to Int.Ch El Khyrias Give and take, Elsa - Ch. El Khyrias Lovin Spoonful and her champion brothers Live Now Pay Later and Livin It Up. Elsa was a lot like Katja when it came to showing... could care less about shows but finished with a lot of BOS wins.

When Elsa was almost two we got Wictor from Catrin Hjerpe. Wic was out of Trappi's brother Ch. El K. Do The Impossible - Ebbe, and the stunning Hazztafer daughter, Nordic Ch. El Mehzades Gisheere. He was the pick puppy for Ebbes owner but she could not take him at the time and he lived out his 13 years in our house.
We loved this charismatic soul! A mind of his own and in his own world... He finished with a BOS and a bunch of best progeny group including the national at Skokloster.

He was first bred to Elsa and he produced two champions Int.Ch Rag a Muffin - Betty and Runner Up - William. Betty was the number one afghan bitch one year and number two the other. She won groups and BIS placements and IS a real showgirl! She is still bopping around at almost 14 ( this month). William was BOS to his sister on a couple of occasions and won at least two cacibs.

Betty produced, bred to first Ch. El Khyrias Tell Me a Secret the Y litter that includes Your worst Nightmare that has put his stamp on Scandinavian afghans and our beautiful Svante (Yachtsman). And in the second litter bred to Int Ch El K. Zcoop of The Year the last El Khyria Litter ever, the third A litter, five boys and among them the lovely Morris (All in One).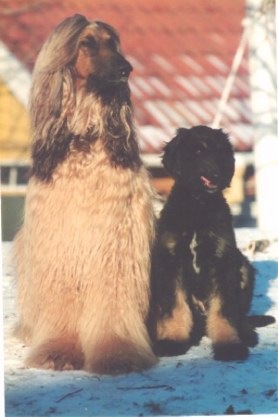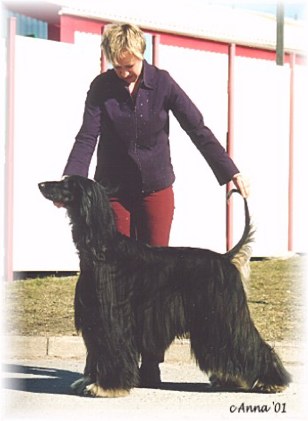 Svante and his baby brother Morris Morris and Marianne Nielsen easter 2001

William is the father of Alphavilles She Sells Seashells ( out of A. Busy Bee) that did plenty of winning as well as producing a lot of champions.
He also produced a litter bred to Age Gjetnes Ch. El Khyrias K'Call me What you want.

Wictor has a top winning daughter out of the stunning Int Ch.El Khyrias Irmelin - Tirpa and her name was Nordic Ch El Khyrias Sammys Sister Sue - Amanda.
He was also bred to Eva and Ulla Johansons Ch El Shazades Bajena Tismara and produced at least three champions that themself has produced.

He also was bred to Nordic Ch. El K Need I Say more and produced at least one champion El Khyrias Unicorn - Dusty owned by the Tell's.

Morris brother "Mannie" went to England and Mrs June Davis where he produced a liiter containing Saqlawi Ain't she Sweet or "Bimbo". Her mother's Litter sister won the group at crufts! Well Bimbo lives with Anna Lena Nilsson in the very north of sweden but is co-cowned by my mom.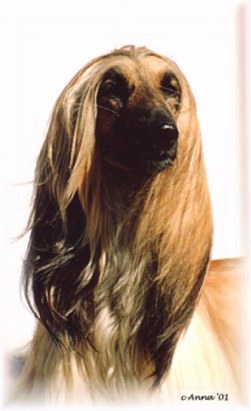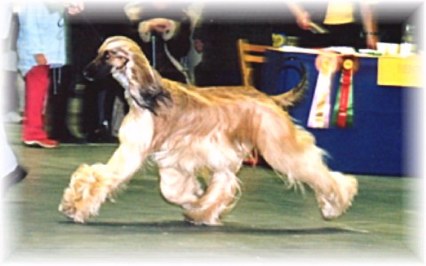 Bimbo, April 2001 Running at the show STOKK 2001


My dear sister could not deal with the coats and decided to find herself a good whippet!
Catharina Ostring sold her Hannes out of her beautiful Ch. Gardsjons Birgitta and the Australian born Ch. Statuesque Personalized. Hannes ( Ch. Gardsjons Egon pictured on top) was the fist and then it became two more Whippets - Hanna and Marten and Loka the greyhound!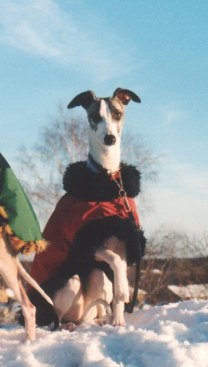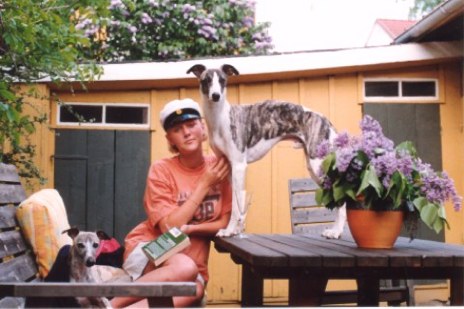 Hanna in her russian coat! Hannes, Asa and Marten after Asa's graduation ( the hat!)

Hanna being the princess of the family and Marten winning big on the oval track racing scene in Sweden. His biggest win was the bronze medal at the Swedish nationals.


Marten at the nationals

Loka is working on her curve skills and will be back on the track this spring. Racing is a family sport in Sweden and has not become the form that you see in the US with horrible conditions for the dogs...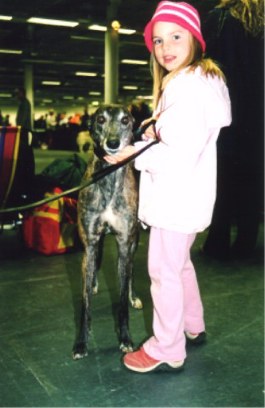 Loka and her dear friend Michaela Loka by the bay


As a sad footnote I have to share the enormously shocking news that we lost both Svante and Hannes during this summer.
Nothing will ever make me understand how you deal easier with a loss....
On a happier note Hannes daugther Frida was bred to Marten and puppies are due beginning of October.

It's a pedigree that make you take a double take!