I got to New York on August 23 1993 and my first impression was: "WOW"!

It soon sunk in as you can read in "Tryst's story" and reality was that these fantastic dogs are among my best friends ever! When you have a group of afghans that can all run together without any gruffing it's a precious thing that you want to keep.

Roger Rechler has worked hard together with Michael Canalizo and Donna Burke ( our manager) over the past 20 years to keep, renew and make the Grandeur afghans a statement in style, elegance, temperament and quality.

With breed type continiously running through their veins and if you take a 40 year old picture and compare to our youngest afghans here, you see that they are not only family but stamped with a unique look of Grandeur.

Someone asked if there was a Cookie Cutter involved.... Well the mother of Rogers latest special is named: Ch. Cookie Cutter of Grandeur....

Anyone that comes to the kennel to visit the dogs get taken by their fantastic temperament. They come to say hello and are eger to hug and almost knock you over!
As late as yesterday May 15th, we had a visitor from Japan and she was greeted by Scout ( Ch.Tried and True) his son Romeo (Ch. Truthfull) and Scouts half brother Tony (Ch. Tribute) at the same time and got traditionally knocked on her hindquarters and kissed by the boys!

She also got the special treatment from very seed covered girls outside....( I hate the month of May when the trees are dropping their seeds...)
Since they are all out in the paddock together and enjoy the weather the Japanese lady got to see them au-naturel.

Here is a gallery of some of the afghans I have been a part of raising and showing over the years. All the champions are presented on the Grandeur website so I refer you to go there to enjoy their individual results and history.

Last but not least ( I am starting at present..) I have had the pleasure to travel and show the charmer himself or "Romeo" as he is called. His name is Ch. Truthfull of Grandeur.


Romeo at Medow Farm ( the new house) The charmer!

The first dog I really got to show by myself was "Belle" ( Ch. Rings True of Grandeur).
A handfull and a lady with her own mind, she will run til she drops and we call her affectionally Crazy!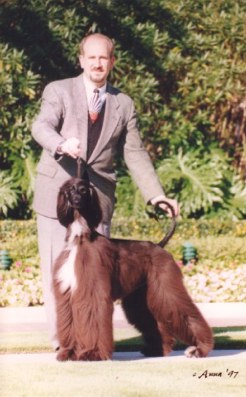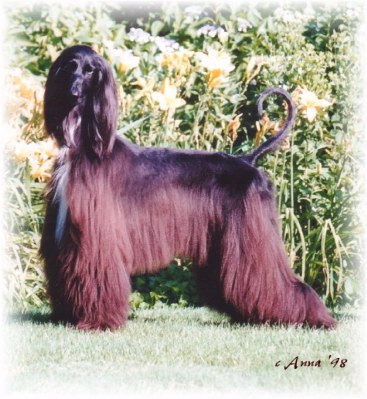 My absolute favourite picture! Belle at 12 mths. And at 24 mths with lots more hair!
She was already a BIS winner here! and a BIS/SBIS winner here!