I was born and raised in Sweden and for you that are not familiar with the country... It could not have been a better place to be!
Animals made their presence early and the afghans was introduced in 1975. It was my mom that wanted one...my dad thought a springer would be nice. He was voted down.

After that I talked myself into riding lessons and a rabbit or two came through the front door.

My sister took liking to fish and hermit crabs so we had our shares of that too.

Growing up around animals I think you get some sort of responsible mind and I hope that has carried on.
Having had horses of our own you realize what responsibilities means...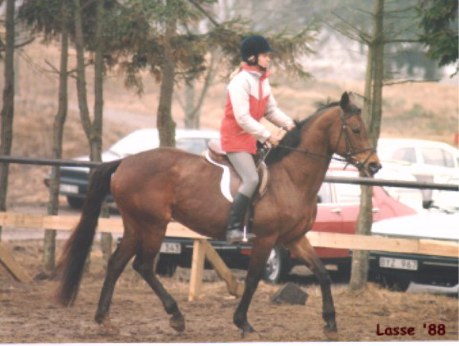 Tinto at age 20 with me warming up before a show

I finished High school in 86 and college in 89 and then I went on to work for my mother at TPS engineering doing research and other lab oriented tasks.

I had a short stint at a candy store ( great during Easter) and then in October 90 I went to work at Kompaniet Home Hotel in Nykoping. During this whole time I was also waitressing at a castle and summer restaurant in Nykoping learning a LOT of stuff!

The hotel was great and I loved it but in 93 I had to do something! I went to England and lived with a family taking care of the house and kids, riding trakhener stallions and went to the very first world congress for afghan hounds..

There I was "set up" by Lotte Jorgensen with her friends from New York, Roger and Evelyn Rechler and their handler and kennel manager Michael Canalizo.

I have been working alongside Donna Burke for the past 7 years and it's been great!

The rest is history.... as they say. I got to work and live with some of the worlds finest afghan hounds, traveling all over America, seeing the country and attending some 600 dog shows over 8 years...
I will not call me an expert in any ways, but a routine you get weather you want it or not!

We have had our great moments here, sad stories to tell and everything you can expect from a daily life with afghan hounds! Lot's of them.

Tryst has been an experience I can't explain how great it has been...

Please visit her page here..






My Grandeur Years
Tryst's page
Grandeur afghans